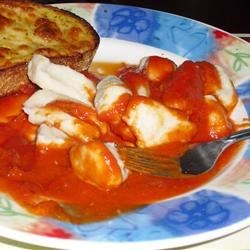 I have always wanted to make a gnocchi dish. If you don't know, gnocchi are small dumplings made from potatoes. Maybe it's the Iowa in me, but I love potatoes. Fried, mashed, in a pierogie...they are extremely versatile.
Rachel Ray featured a recipe on her show once with gnocchi that made me want to try it. But when I went to the store, at that time I just couldn't justify spending $6 on a small package of gnocchi. And that was the price at Wal Mart. I love a challenge, so I thought I'd find a recipe to make it myself. Upon looking, though, I found the comments discouraged me from trying. It seriously takes a lot work, and with 3 kids that won't be happening!
In a
post
a couple of months ago, I told you
All Recipes
was a great website for recipes. I am not lying. I promise. I get a daily e-mail from them of featured recipes. Usually it's one recipe, but sometimes it's like an article with multiple recipes. Yesterday's e-mail was '5 Meals In 15 Minutes'. It featured a quick
gnocchi recipe
made with instant 'taters. Yes!!!
So I will most definitely be trying this one out. When Jon gets home of course. He'd really be sad if I made it, it was amazing, and did it while he was gone hehe.
A quick tip, though. I like to try recipes like this one that have 4+ stars with many (read high hundreds or thousands) people rating it. If I have time I'll try one with less ratings, but I'd prefer a guaranteed winner. Of course, it could be fabulous and my kids end up not liking it...that's possible. But as long as Jon and I do, it's all good!